Nationwide Warranty
Wherever You Go, Our Warranty Goes With You.
When you have service and repairs performed by an authorized TechNet Professional Automotive Service facility, you're covered by a nationwide limited repair warranty that extends across North America, for 24 months or 24,000 miles, whichever comes first.
Program Coverage
Air conditioning, heating, and climate control systems
Brake system(s)
Clutches (clutch component or assembly repair and replacement)
Electrical system(s)
Emission control system(s)
Engine cooling system(s)
Electronic engine management (and other on-board computer) system(s)
Engine performance services
Exhaust system(s)
Fuel system(s)
Ignition system(s)
Other minor repairs
Starting and charging system(s)
Steering/suspension system(s)
Hybrid drive battery replacement(s) installed after July 1st, 2016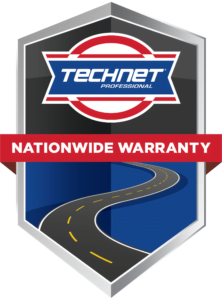 Roadside Assistance, Assistance You Can Count On.
Flat tire, lost keys, empty gas tank, dead battery, or need a tow? We've made it easy for you to receive help anytime, day or night, with Roadside Assistance Coverage. TechNet Professional Automotive Service centers offer roadside assistance reimbursement with your qualifying service.
How to Obtain Service
Contact the licensed service provider of your choice.
How to Receive Reimbursement
Download and complete the Roadside Assistance claim form and submit with the required proof of service documents listed on the form. You can email these documents to mechclaims@sonsio.com, fax to 1-866-924-3668, or mail to TechNet Customer Care, P.O. Box 17659 Golden, CO 80402 in order to receive reimbursement. If you have questions concerning a Roadside Assistance Claim please call 866-588-0728 option 2.
Program Coverage
Covered services are towing, lock-out assistance, flat tire assistance, fluid delivery, and battery jump-start. To be eligible for this coverage, all you need is an invoice from a TechNet Professional location. The maximum reimbursement amount is one-hundred-and-fifty ($150.00) dollars per eligible incident per 365-day period.