Complete tire care that fits your schedule
Need tires? Treat your ride a new set of shoes from Sports and Imports. We are a factory-authorized Toyo dealer and also offer Nitto, Michelin, Falken and Goodyear tires for your passenger car, light truck or SUV.
Make sure to include a 4 wheel alignment with your next set of tires to extend their life and keep you running straight down the road.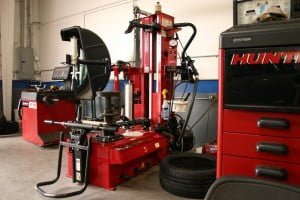 Keep your hot ride cool on the inside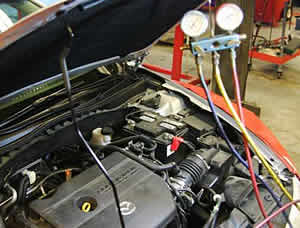 When temperatures rise, there's nothing more refreshing than climbing into a cool, air-conditioned car. 
Over time A/C fittings become loose, O-rings, hoses and seals wear out – and your cool ride … stops.
Get the chill back with Sports and Imports.
At Sports and Imports all AC repair and AC services are handled by ASE-certified technicians. They have completed training through EPA-approved AC programs. Your car is in good hands with us and we will examine every part of your car's A/C system to see if there is a leak.
How do I know when it's time to have my steering & suspension system checked?
Most manufacturers recommend steering and suspension checks every 50,000 mi however if you notice any of the following warning signs, you might want to let our technicians take a look sooner:
Excessive noise when driving over bumps
A harsh, bumpy, or shaky ride
Extreme bouncing and wandering
Crooked steering wheel
Your tires are wearing unevenly
Your vehicle's steering and suspension is responsible for optimal ride comfort and handling. Because road conditions can cause the shocks, struts, and springs of your suspension system to degrade over time, worn parts may reduce stability and control and can accelerate tire wear.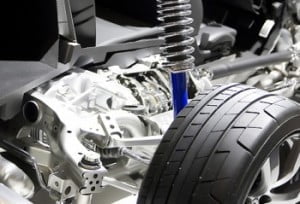 There is never a good time to break one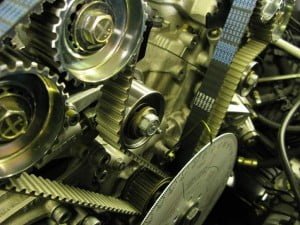 Don't let a worn timing belt become a ticking time bomb. Timing belts don't last forever and todays modern interference motors don't like it when they break.
If you can't remember the last time you changed your timing belt and the odometer on your car is closing in on 60K, stop in and see us when you want to, instead of when you have to. 
One of the simplest, most effective and inexpensive ways to help protect the life of your car, especially its engine, is to change the oil and the oil filter regularly. Oil is the lifeblood of your engine. It reduces friction, lessens wear, provides lubrication, forms a seal between the pistons, rings and cylinder walls while helping to cool engine parts.
Without the cleaning action of new oil, carbon and varnish buildup would be toxic to the engine. And engine oil even dampens the shock and noise of moving parts.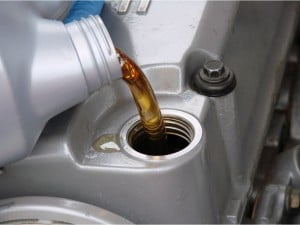 Stop in today – while you still can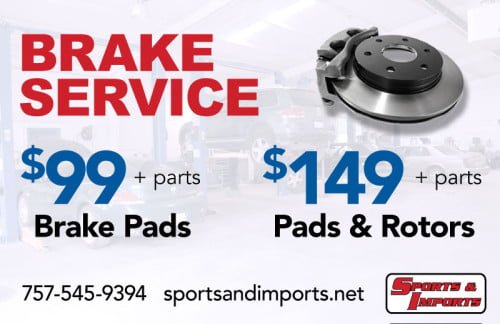 You may need a brake repair when:
the brake dashboard light glows amber, indicating problems with the anti-lock brake system (ABS)
the brake dashboard light is red, indicating a system imbalance
the brake pedal is spongy or slow to respond
you hear grinding or constant squealing during braking
Any time you notice these or other symptoms, it's a good idea to have your brakes checked.
If our inspection reveals you do need a brake repair service, we will explain exactly what's required before any work is done.
Sports and Imports can replace your pads and rotors quickly and affordably.
Make an appointment or stop in today!
How to Finance Your Auto Repairs
By becoming an exclusive Bosch Service credit cardholder, you have a dedicated line of credit just for your car, plus these benefits:
No annual fee
Stress-free financing with low monthly payments
Easy application process
DEFERRED INTEREST IF PAID IN FULL WITHIN 6 MONTHS*
$299 Minimum purchase required. Interest will be charged to your account from the purchase date if thepurchase balance is not paid in full within 6 months or if you make a late payment.
*MINIMUM MONTHLY PAYMENTS REQUIRED. Applicable to purchases made January 1 throughDecember 31, 2017. APR: 22.8%. Minimum Finance Charge: $1.00. CFNA reserves the right to change APR,fees and other terms unilaterally.
CFNA is the bank behind your automotive credit card.
Todays cars are controlled by computers. The fuel injectors, spark plugs, steering system and more are all controlled by onboard information systems. If something's wrong with your car or engine your onboard computer can tell us about it. That Check Engine light is your reminder to stop in and let us determine the problem and carefully review with you what (if any) work needs to be done and exactly how much it will cost.
Protect your investment and stop by at the first sign of trouble. We will get you in and out and back on the road with a clear light and clear conscience.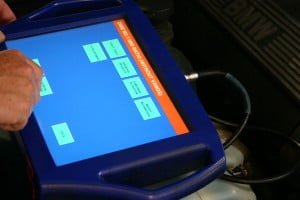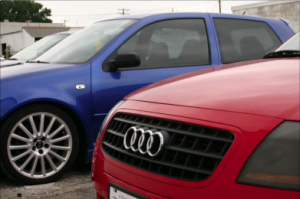 Bring out the optimal performance in your ride with engineered solutions in tuning and performance parts. No matter the level of modifications you desire to improve performance and handling we will take your sports car to the next level.
With over 20 years of road race experience Sports and Imports can take you to the redline and back whether you run the street or run the track.